What does this Qur'an Binding, Samaritan Torah case, and Torah ark door have in common? #benezra #thresholdtothesacred #yum #yeshivauniversity #middleeast #egypt #design #medallion
Installing LIGHT AND SHADOWS opening November 17 #iranianJews #persia #yum #yeshivauniversity #history #jews
LIGHT AND SHADOWS opens November 17th #iranianJews #yum #fowler #yeshivauniversity #persia #iran #comingsoon #newexhibition
Dr. Steven Fine and assistant curator Sasha Semach lead students through Threshold to the Sacred #door #museum #yum #yeshivauniversity #undergrads #jews
IF ONLY OUR POLITICIANS COULD DRESS SO WELL
We're in NYC, so let's cast our ballots this November 5th in style - top hats and canes for everyone!
In this image we have a stylish Benjamin Disraeli, the first and only Prime Minister of England of Jewish descent. Disraeli helped improve lives of the working class in particular. With laws like the Conspiracy and Protection of Property Act 1875 he helped decriminalize the work of trade unions and allowed peaceful picketing. His Public Health Act 1875 improved sanitation and filthy living conditions in urban areas.
Maybe vote for someone today you feel will do some good for your city.  Wouldn't hurt if that person also looks good in a top hat….
PLAYER'S CIGARETTES BENJAMIN DISRAELI, John Player & Sons
Clark, C. 1932 (1999.213) 

THE STORIES A DOOR TELLS 
One person's plank of wood is another people's history. This incredibly panel from the Torah ark of the Ben Ezra Synagogue in Cairo is just that kind of … er, wood plank.
Currently on view, the different details of this panel's decoration and other elements reveal its incredible history from medieval Cairo to contemporary New York — via a Florida auction house!
You can learn more about this door and the Ben Ezra synagogue where it comes from, in YUM's new exhibition, Threshold to the Sacred: The Ark Door of Cairo's Ben Ezra Synagogue, on view through February 2014.
BE ANYONE YOU WANT TO BE…AT LEAST DRESS UP LIKE THEM
Do we have any Abrahams? How about an Isaac? Maybe the alter?
Isn't that the theme of Halloween? Isaac may have wanted to be someone else at this exact moment. Here is a postcard that might bring some scary in your Halloween (perhaps put the fear of God in you?).
The story goes like this: God told Abraham to sacrifice his son, and when he began to follow God's instructions, God called out and told him to stop before any harm could come upon Isaac. A ram was placed on the alter as a sacrifice instead of Isaac.  Most religious thinkers argue that the episode was a test of Abraham's dedication to God. This postcard depicts that  story in a rather graphic and dramatic light.
What does this have to do with Halloween? Well we are giving you some costume ideas. The back  of this postcard is an advertisement for a masquerade ball organized by the Poale Zion of Chicago in March of 1916. Although originally for the festival of Purim, we'll use it for Halloween, they both have a dress up theme going on. If you do use our costume suggestions try not to reenact the scene!
Hope your evening is as spooky as this post!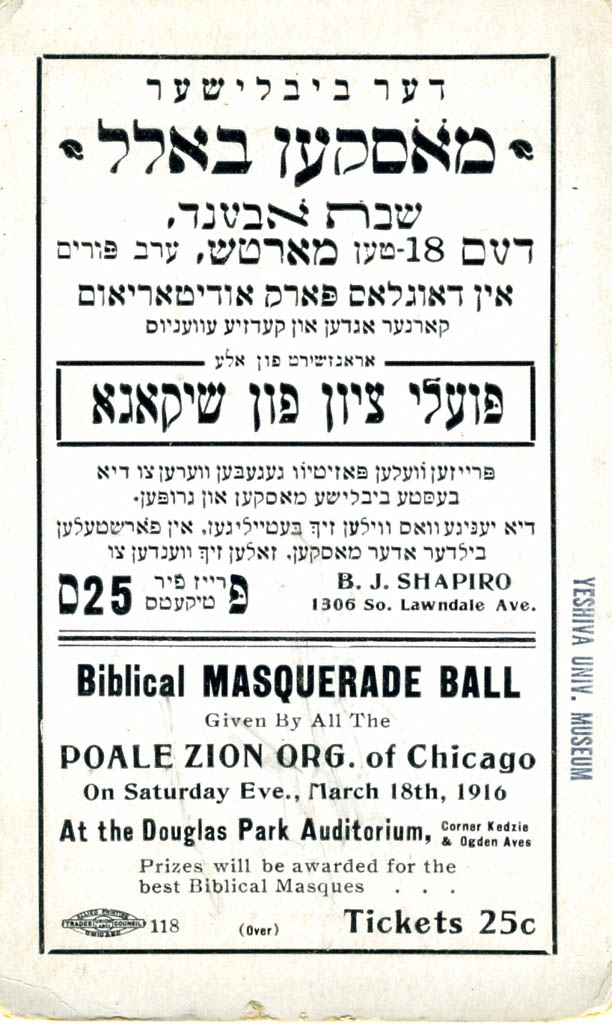 Poale Zion Advertisement for a Biblical Masquerade Ball, 1916, Chicago, Illinois, YU Museum Collection 1976.033